About Diyode
The Diyode Community Workshop:
Our Weekly Monday Night Open Houses/Makers Meeting are now at our new location at 700 York Rd! Our meetings will include small projects and jobs as we set up our new shop. If you are interested in learning more about DIYode or If you are a current member and want to lend a hand, please join us!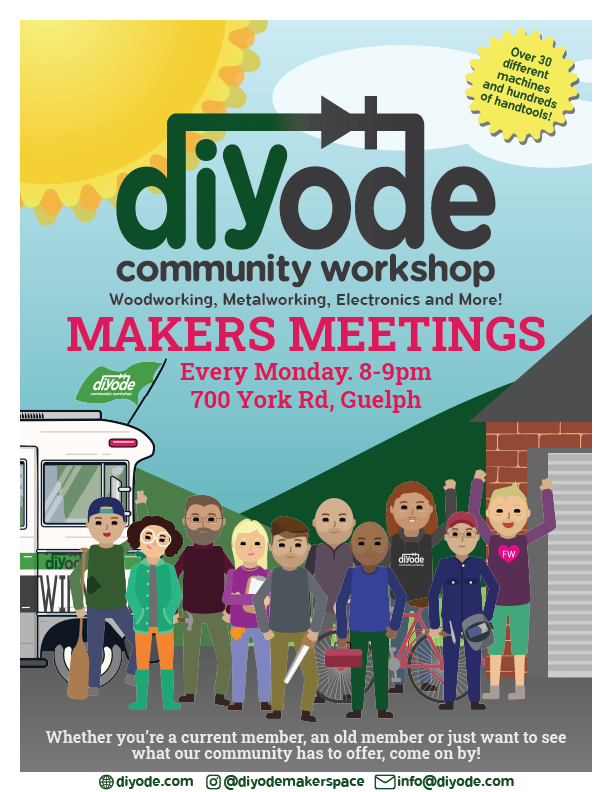 The Diyode community workshop is a place for making, 2500 square feet of tools and supplies for wood working, metal working, electronics, prototyping and crafting. Holding it all together is a community of people who like to get their hands dirty, and are always willing to lend a hand to anyone that wants learn something new.
Diyode is a non-profit organization with a mandate to foster an enthusiasm for DIY, to spread the idea that it's better to build something than to buy it, and that it is better to fix something than throw it away.
If you're interested in becoming part of this community, email info@diyode.com for details.
To join the discussion online, meet us on Slack (community instant messaging), Twitter or Facebook.

Follow @diyodemakerspace on Instagram!
For more information, contact info@diyode.com
Follow @diyode https://twitter.com/diyode
Diyode would like give a special thanks to our Sponsors.